.mediaFeature {padding:2px 0;}.safeTech {background:#6f92a5;float:left;padding:20px 0;font-size: 17}.safeTech, .safeTech h4 {color:#fff;}
.aligncenter {text-align: center;}
->

->->->
Features
Scaled Down Version of the 1/10th 22T
Mid Motor Configuration
Aluminium Chassis
Threaded Oil Filled Shocks
Fully assembled and ready-to-run
Dynamite 7.4V 2S 650mAh 20C Li-Po Battery
BK Bar Tires with Dish Wheels
Full Ball Bearings (less steering)
Servo Saver
Waterproof electronics*
22 Suspension Geometry
Option Parts Availability
->->
Overview
Reinvented with modern technology and Team Losi Racing® engineering, the Losi® Mini-T® 2.0 1/18th-scale 2WD Truck honors the heritage of the original Mini-T with features and options never dreamed of back in the day. With suspension geometry updated and taken from the TLR® 22 platform and the inclusion of waterproof* electronics with a 2.4Ghz radio system, everything here takes a step above the Mini's on the market. RC enthusiasts looking for something small, but with the performance of a 1/10 scale vehicle will find plenty to love in the Mini-T 2.0. It features a mid-motor configuration for better balance, oil filled shocks, aluminium chassis, and a full range of option parts all in a total ready-to-run package. You get TLR engineering and performance in a 1/18th size package.
*For details on waterproof standards, please refer to the product instruction manual.
->->
Needed to Complete
Nothing! Everything is included.
What's in the Box?
(1) Losi® 1/18 Mini-T 2.0 RTR Truck with:

3-CH 2.4GHz Transmitter
ESC/Receiver 2.4GHz
Dynamite® 47T 280 Brushed Motor
Spektrum™ SX107 Micro Metal Gear Servo
Dynamite 7.4V 650mAh 2S 20C EC2 LiPo Hardcase
Dynamite USB 2S LiPo charger
4 AAA batteries (for transmitter)

(1) Product Manual
->->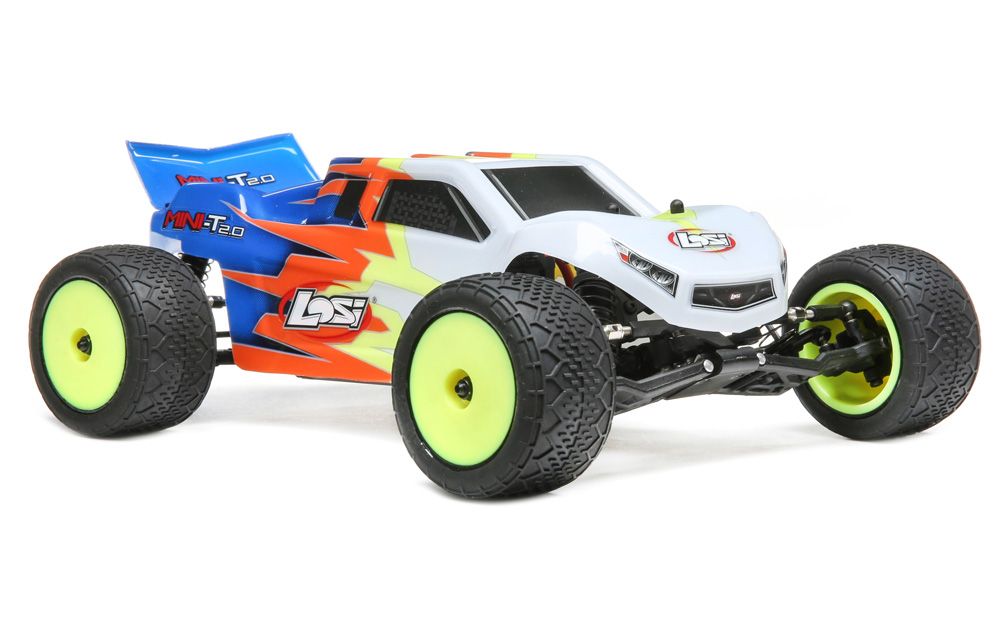 Scaled-Down Version of the 1/10th TLR 22T
Back in 2003, Team Losi released the hugely successful Mini-T, which was based on the XXXT platform. Today's Mini-T 2.0 is now based on our TLR 22T platform, taking advantage of what we've learned over the years to make this generation of Mini 2wd trucks unbeatable.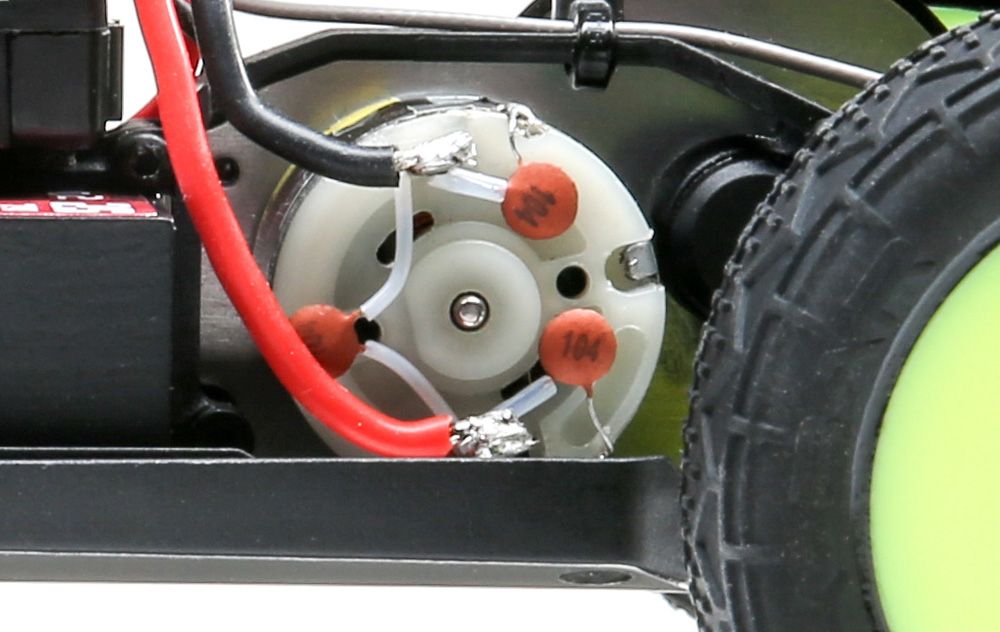 Mid Motor Configuration
The Mini-T 2.0 comes standard with a mid-motor configuration. This not only replicates the 1/10th version but also provides a better-balanced chassis allowing for better performance on multiple surfaces and also balances out steering and traction.
-> ->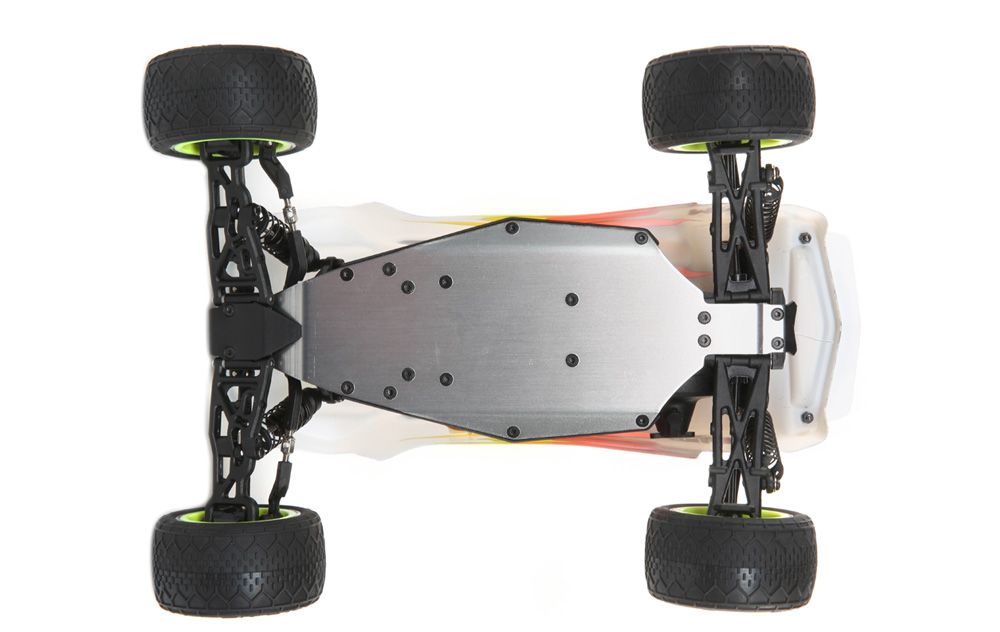 Aluminium Chassis
The Mini-T 2.0 has been designed with a 1.5mm thick 6061-T6 Aluminium chassis plate. The aluminium chassis provides more strength and durability while vastly improving performance.
Threaded Oil Filled Shocks
The injection-moulded shocks feature threaded shock collars allowing for easy preload/ride height adjustments. Additionally, the shock bodies feature a bottom loading, re-buildable shock cartridge with dual o-rings to help keep the oil in the shocks.
-> ->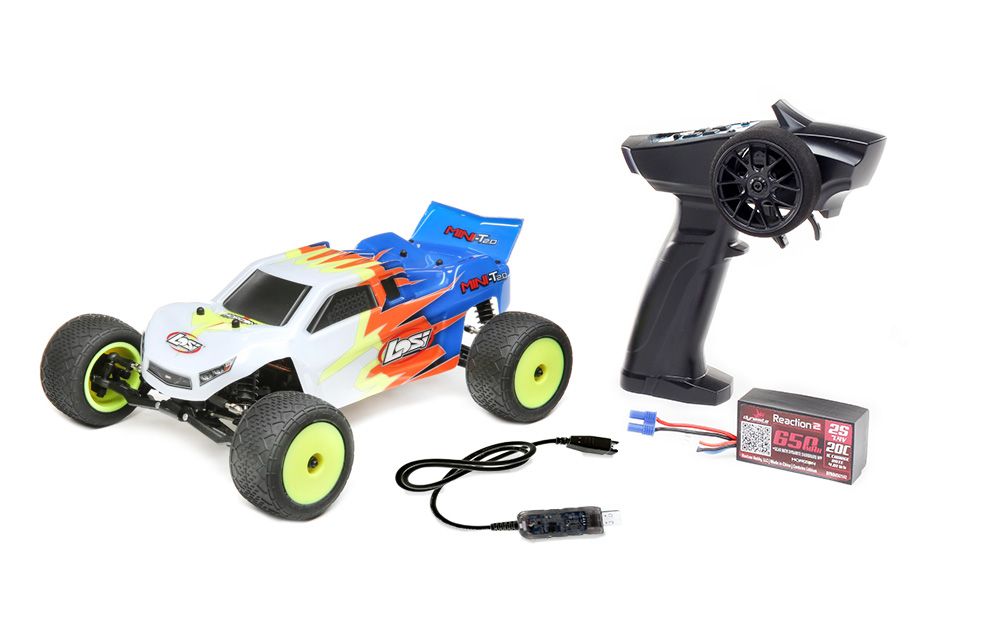 Ready To Run
The Mini-T 2.0 comes fully assembled and ready to rock. Just install the included AAA batteries in the transmitter, charge the included LiPo battery with the included charger.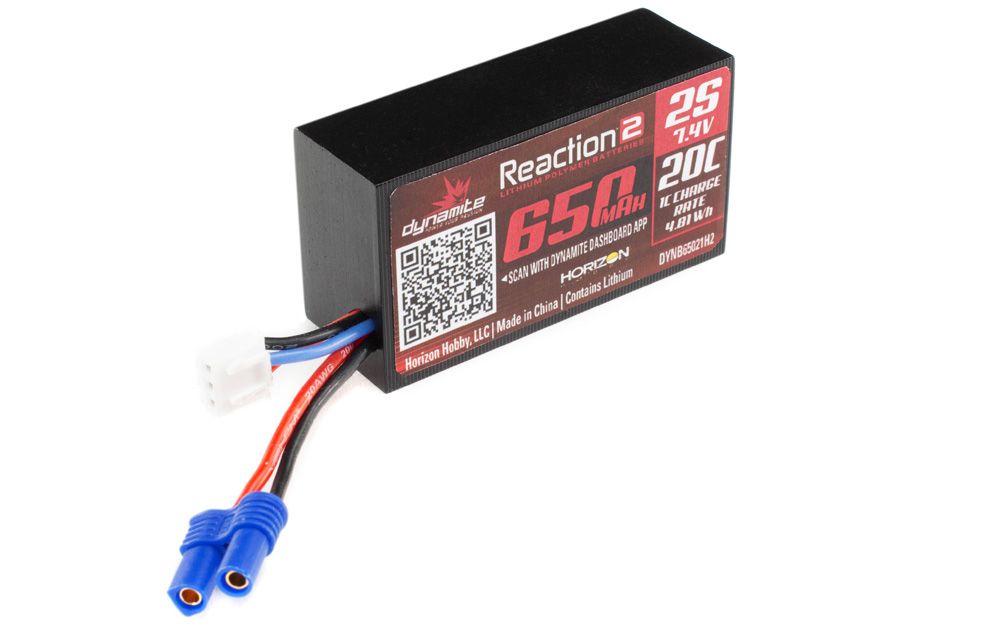 Dynamite® Reaction® 2.0 7.4V 2S 650mAh 20C Li-Po Battery
The Mini-T 2.0 comes equipped with a 2S 650mAh Li-Po Battery for excellent performance and run time.
-> ->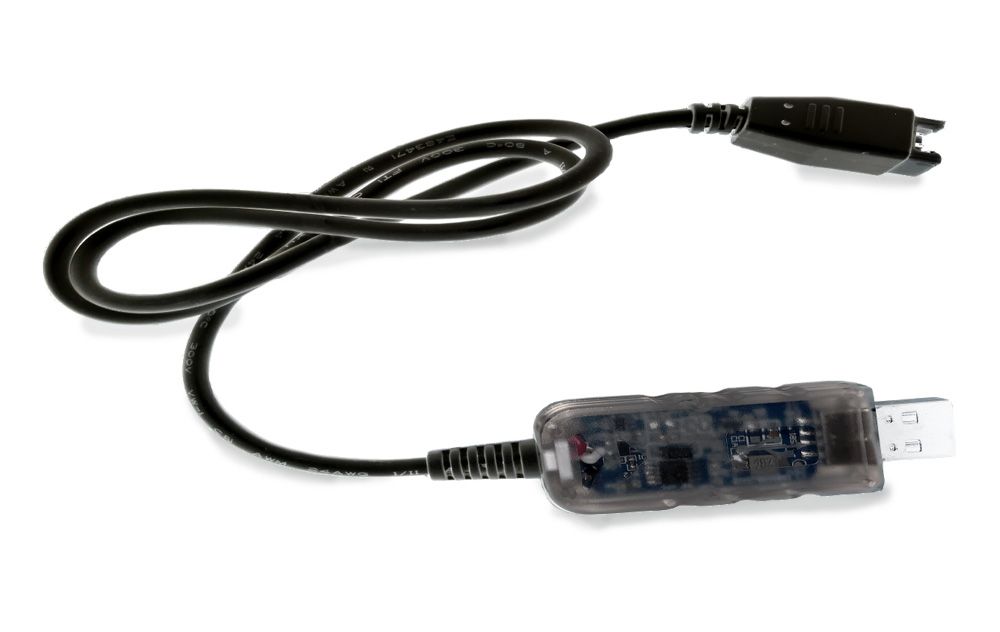 USB Charger
When we say entirely ready to run, we mean it. The Mini-T 2.0 comes with a USB charger making charging your battery easy and convenient.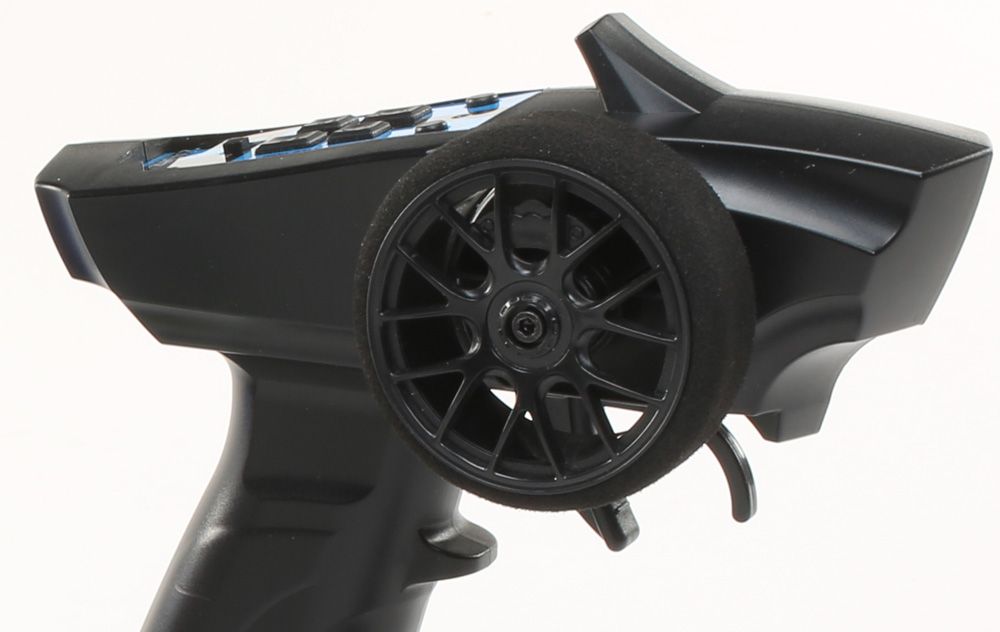 2.4Ghz Transmitter and Receiver
With features like throttle/steering reversing, throttle/steering travel adjust, the included 2.4Ghz transmitter packs a lot of features in a small package with the interference-free connection.
-> ->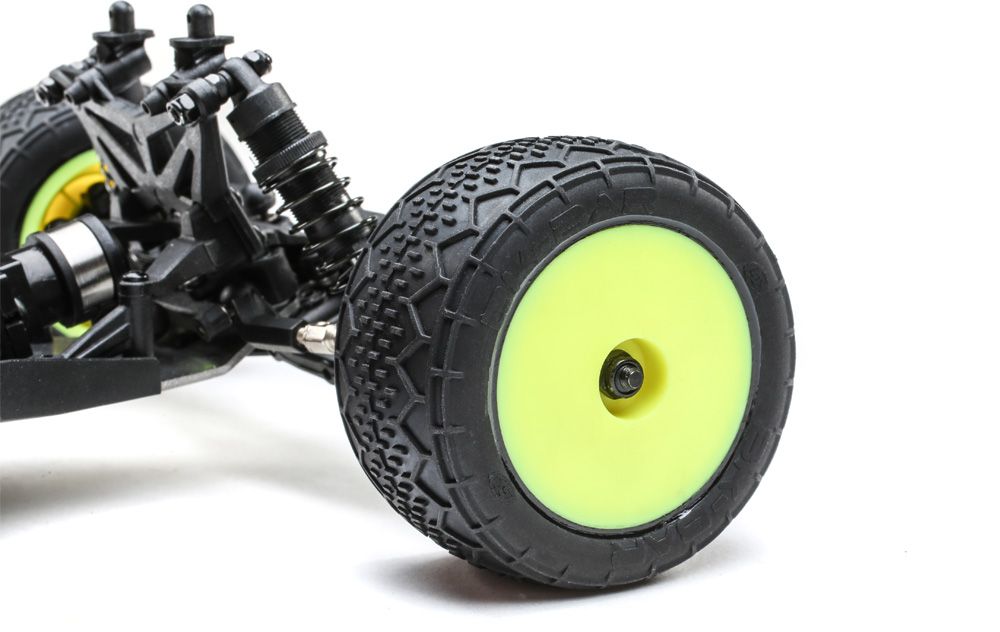 BK Bar Tires with Dish Wheels
Front and rear "Mini" BK Bar tires replicate one of the most popular tires from Team Losi. Injection-moulded Dish wheels replicate the factory look of the 22T.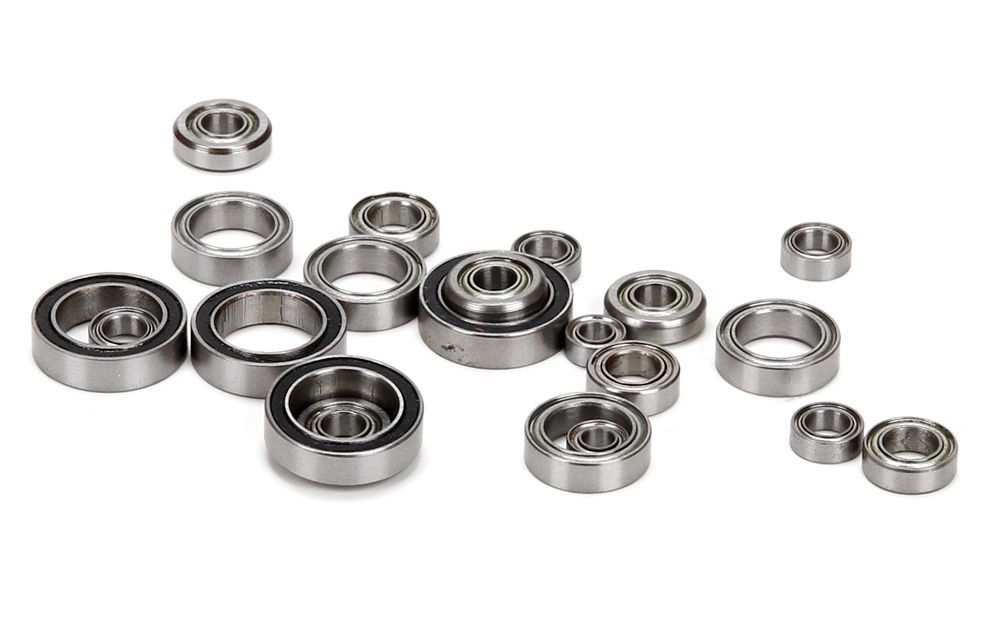 Full Ball Bearings*
The Mini-T 2.0 comes equipped with ball bearings that enhance vehicle performance by reducing drivetrain friction and increased smoother, longer running.
*Less steering bell crank
-> ->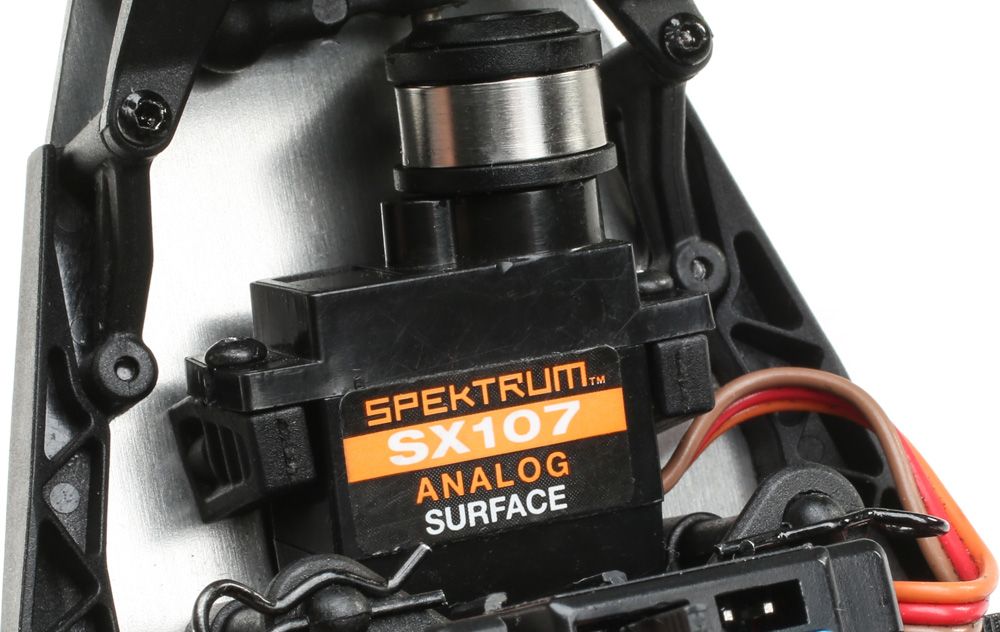 Servo Saver
The Mini-T 2.0 comes with an oversized three-wire Spektrum metal gear servo equipped with a servo saver that provides extra protection.
Waterproof* Electronics
All the Mini-T 2.0 components are waterproof, so you can drive in any conditions with no problems.
*For details on waterproof standards, please refer to the product instruction manual.
->->
TLR 22T Suspension Geometry
The Mini-T 2.0's suspension geometry has been derived from the TLR 22T platform providing balanced steering and traction from the optimized race design.
Option Parts
The Mini-T 2.0 has a full line of option parts available from aluminium upgrades, brushless motor, and much more.
->
->

->