Product Overview
The Losi® Baja Rey™ desert truck is built on one of the most advanced chassis ever conceived for an off-road vehicle. It comes equipped with a Dynamite® 3800Kv brushless power system, as well as a long-travel suspension, so you tear across all types of terrain at speeds of 45mph or more! And you'll do so with the full-throttle freedom that only AVC® technology can provide.
Features
All New Race-inspired 2WD Platform
AVC® (Active Vehicle Control®)
Dynamite® Fuze™ Sport ESC
Team Losi Racing® Option Part Upgrades Available
Bottom Loading Battery
All Metal Gear Transmission
Gear Differential
Spektrum™ Servo
Spektrum™ Dx2e Active Radio System
Race-Inspired Licensed Scale Body
MAXXIS Razr MT tyres
12mm Race-Inspired Shock Absorbers
Dynamite® 3800Kv Brushless Power System
The truck comes equipped with a Dynamite Fuze™ 3800Kv brushless motor and a waterproof 130A ESC. This potent combination can handle 2S or 3S LiPo batteries (sold separately) and will allow you to hurtle across the landscape at speeds of up to 45+ mph.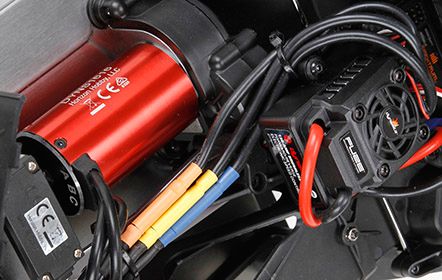 Baja-Inspired Chassis with Long-Travel Suspension
The Losi development team started from the ground up with an entyrely new chassis design that brilliantly blends scale realism with functional 4WD capabilities. The foundation consists of a 3mm, hard-anodised aluminium chassis plate that is integrated with a realistic roll cage made of super-tough composite material. To this it adds a long-travel, independent front suspension and 4-link live rear axle that look and function exactly like their full-scale counterparts.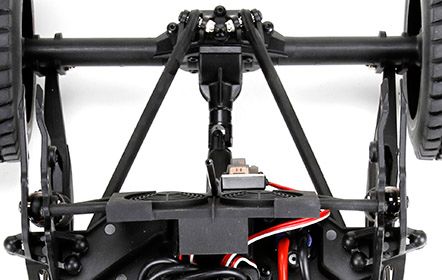 Bind-N-Drive™
Bind-N-Drive™ (BND) is a transmitter-less option for RC enthusiasts who already own a surface transmitter featuring Spektrum 2.4GHz DSM Technology. This money-saving innovation allows you to add a Bind-N-Drive vehicle to your collection without the extra cost or clutter of an extra transmitter.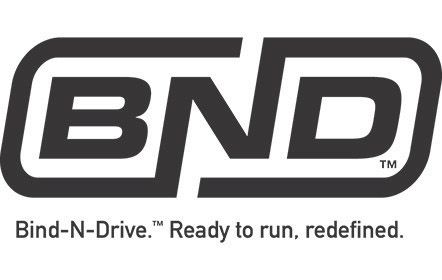 Easy-Access Motor
The unique design of the chassis allows the Dynamite Fuze™3800Kv brushless motor to be accessed without difficulty. Drivers simply remove three screws in the bottom of the chassis and they can then effortlessly make gear changes and service the motor.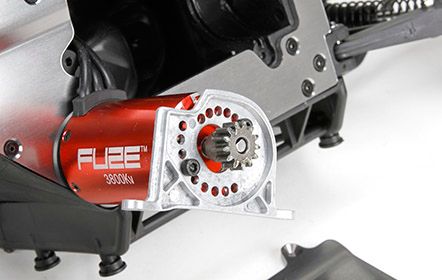 Easy-Access Battery Compartment
To help withstand the trials and tribulations of off-road driving, the Baja Rey™ desert truck was built on a durable reinforced composite chassis with a bottom load battery compartment. Quickly and easily make battery changes without removing the body or wrestling with battery straps.
Sealed Metal-Gear Transmission and Diffs
The single-speed transmission, as well as the front and centre diffs, are sealed against the elements and engineered to handle the abuse of a high-output brushless motor and punishing terrain. MOD 1 gears further increase the durability of this desert beast.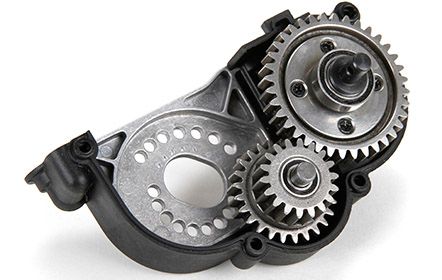 Coil-over Oil-Filled Shocks
The long-travel shocks do a fantastic job of soaking up the energy from big bumps and jumps. They also feature threaded shock bodies with adjustment collars so you can fine tune the pre-load settings of the coil-over springs. External bump stops provide plush landings on the hardest surfaces.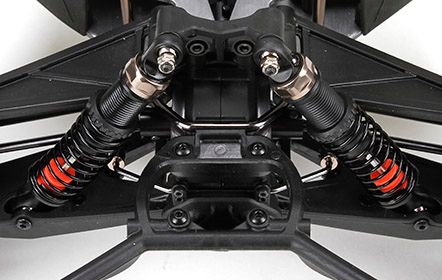 Waterproof Electronics
The Baja Rey™ desert truck is loaded with waterproof electronics including the receiver, servo and ESC. Everything is sealed against the elements allowing you to splash in the rain, spin in the mud and make tracks in the snow. It's full-throttle freedom to run anytime, rain or shine.
Bolt-On Body Panels and Detailed Interior
The four piece bolt-on body panels give the truck an authentic factory look. Eliminating the need for body posts that spoil the scale look, these panels are polycarbonate for incredible durability and rugged good looks. You also get a molded interior that includes a driver and rider figure, both of which sport racing helmet and harness details.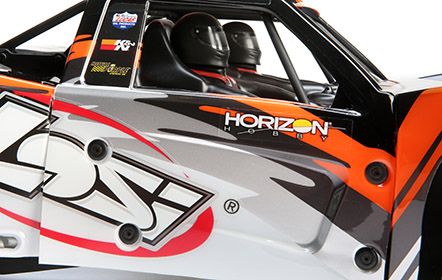 What's in the Box?
(1) Losi® Baja Rey® BND 1/10 4WD Desert Racer
(1) Spektrum™ 4-Channel DSMR® AVC Surface Receiver
(1) Spektrum™ 9KG 23T Waterproof Servo
(1) Dynamite® Fuze™ 130A Sensorless Brushless Waterproof ESC
(1) Dynamite® Fuze™ 550 Brushless Motor 3800Kv
(1) Product Manual
Needed to Complete
DSMR compatible, 2+ channel, surface transmitter
One 2 or 3 cell, 5000+ mAh 30C LiPo battery with EC3 connector
Appropriate LiPo charger